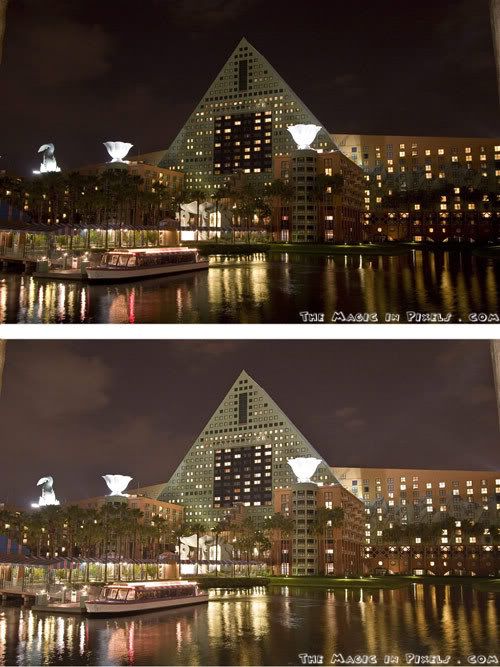 This is a before and after photo of the Walt Disney World Dolphin used to illustrate what is possible when shooting in RAW. If your camera has the capability (very few point and shoots have it, all D/SLR's have it), this is what is possible. The top image is a shot of the Dolphin straight out of the camera with no processing other than opening the RAW file. The bottom image is the completed photo, taken from the RAW and processed with a workflow that I use on all my images. The purpose of this exercise is not to divulge my workflow or host a lesson on Photoshop technique so please don't ask about that as it is beyond the scope of this post, but to illustrate what is possible when using the RAW format to it's capability.
For more information on processing RAW images or workflows, simply Google RAW workflow, Photoshop RAW, etc.
Be sure to visit
THE MAGIC IN PIXELS
. Contest winner to be announced tomorrow, so stay tuned!
---
Visit
The Magic in Pixels.com
.
View 1,000's of Disney Theme Park Photos, read articles, participate in the TMIP Disney Photo Forum, and purchase Disney Prints for your home or office.