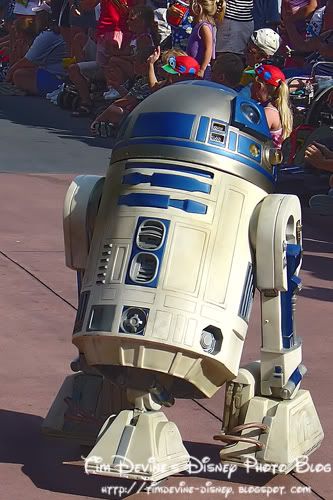 I am not really sure what it is, or why it happens, but I always get a little bit excited when I see R2-D2 coming across the walkway at the Disney MGM Studios for the Stars and Motorcars parade. Maybe it's my inner Star Wars ...well, geek... but the sight of a 3 foot tall remote control robot always seems to make my day. I grew up on the classic Star Wars Trilogy, so maybe it's a happy memory from when I was a kid. Anyway, during the parade, several Star Wars characters make a brief appearance, including R2-D2, Darth Vader, and a Studebaker that looks like a speeder, carrying Luke and Leia. A really nice touch if you ask me...
---
Visit
The Magic in Pixels.com
.
View 1,000's of Disney Theme Park Photos, read articles, participate in the TMIP Disney Photo Forum, and purchase Disney Prints for your home or office.