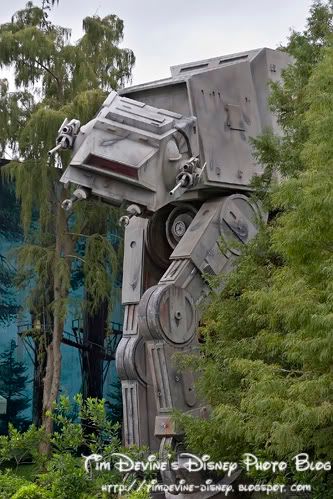 ATTN: LOU MONGELLO....you are to reply to this post or the Empire will be forced to demonstrate the firepower of this Imperial AT-AT walker. Well, if it's THIS Walker, you might get cool-misted to death. (Lou is a fellow self-proclaimed Stat Wars fan....)

This is the entrance to Star Tours in the Disney-MGM Studios. It seems just a little nicer than the one at Disneyland, no? Star Tours, for the 3 of you out there who don't know, is a motion simulator ride through the Star Wars universe aboard a Starspeeder 3000. Star Tours is the charter trip provider. The pilot, Rex, (voiced by Paul Reubens....yes THAT Paul Reubens) is a newbie pilot on his first flight. He screws up, as to be expected, and all kinds of commotion and hilarity ensue....

I LOVE Star Tours but....PLEASE UPDATE THE VIDEO! (none of those wonderful prequels either, although a Podrace might be cool)....

PS. CONTEST!! Can anyone find a

VERY SLIGHT

homage to Star Wars in this post? There is definitely one here....but you need to be a Star Wars expert to find it. First person to comment with the correct answer (what it is and why it is significant to Star Wars) will receive a 4x6 postcard print of this photo. You need to think really small....I have received a few guesses that are not quite what I am thinking for the correct answer. It has nothing to do with the photo or any specific quotations from the movie, but rather a "style or convention" that they used in all six movies, right at the very beginning....
---
Visit
The Magic in Pixels.com
.
View 1,000's of Disney Theme Park Photos, read articles, participate in the TMIP Disney Photo Forum, and purchase Disney Prints for your home or office.