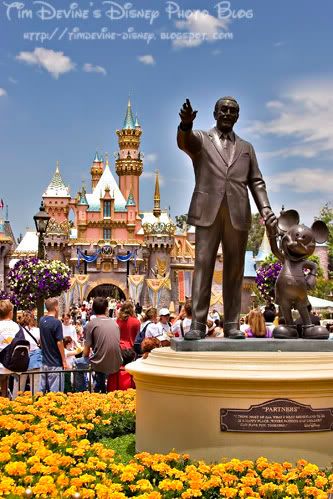 "PARTNERS"
-I think most of all what I want Disneyland to be
is a happy place...where parents and children
can have fun, together."
Walt Disney
This statue was installed in front of Sleeping Beauty's castle in November of 1993 and was scultped by legendady Disney Imagineer Blaine Gibson, who came out of retirement to create this mangificient work of art. An identical "Partners" statue was installed several years later in the same place at the Magic Kingdom, in WDW.
On a side note, today makes the 1 year anniversary of the Happiest Celebration on Earth kicking off at Disney Parks around the world. I thought that this would be an appropriate time to post a photo from Disneyland, the place where Disney Theme Park magic was born.
---
Visit
The Magic in Pixels.com
.
View 1,000's of Disney Theme Park Photos, read articles, participate in the TMIP Disney Photo Forum, and purchase Disney Prints for your home or office.