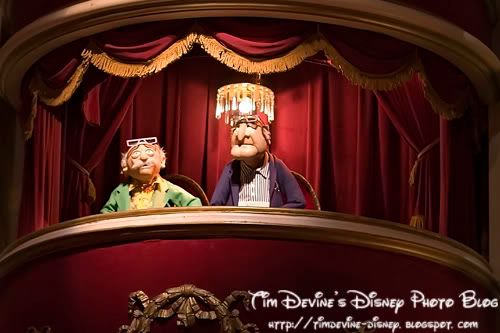 Statler and Waldorf are the name of the two old hecklers on the Muppet Show and what good would a Muppets 3D attraction be without those two old coots? I love this attraction and I think that these two absolutely make the attraction with their witty banter and snappy insults.
By the way, this was a major day in Disney Theme Park and Muppets history:
1928:
Walt Disney applies for a trademark for "Mickey Mouse,"
for use in motion pictures.


1990:
Muppet creator, filmmaker, and television producer Jim Henson dies of pneumonia less than 24 hours after being rushed to a New York hospital. The fifty-three-year-old has been misdiagnosed earlier in the week and had he been put on antibiotics only 8 hours earlier, it is believed Henson would have survived. A memorial service for Henson will air on PBS and draw millions of viewers and dozens of celebrities in reverence for his life and work. (He was completing negotiations with the Disney company to include his Muppets at their theme parks at the time of his death.)


1991:
Jim Henson's Muppet-Vision 3-D opens at the Disney-MGM Studios theme park at Disney World. The attraction is housed in a 1000 seat multi-media 3-D theater located in a further expansion of the backlot annex area.


---
Visit
The Magic in Pixels.com
.
View 1,000's of Disney Theme Park Photos, read articles, participate in the TMIP Disney Photo Forum, and purchase Disney Prints for your home or office.