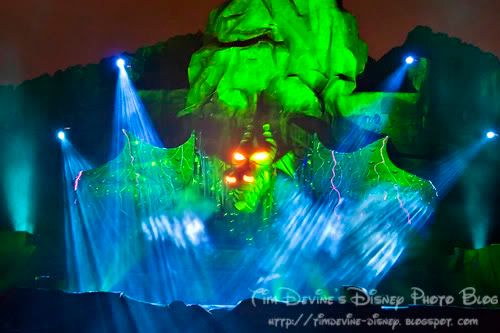 Fantasmic is the nightly 25 minute spectacular in the Disney MGM Studios that required the construction of an entire amphitheater in the area behind the Tower of Terror.
This fire breathing dragon comes into existence courtesy of the Evil Queen from "Snow White" as she brews a magical spell to defeat Mickey Mouse. She calls on villains including Ursula, Cruella, Scar, Frollo, Jafar, Maleficent and Hades to harness the positive energy Mickey possesses and make it evil. Mickey is terrified when Maleficent unexpectedly transforms into a ferocious 40-foot-tall dragon whose breath ignites the waterway with a sea of flames that overtakes the island.
---
Visit
The Magic in Pixels.com
.
View 1,000's of Disney Theme Park Photos, read articles, participate in the TMIP Disney Photo Forum, and purchase Disney Prints for your home or office.