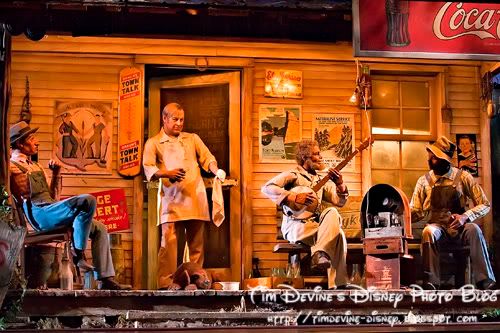 The American Adventure, I think I've said before, is one of my favorite shows in all of WDW. It presents a (..sanitized..) history of America, narrated by Mark Twain and Ben Franklin. I think the reason I love the show so much is that, from a technical standpoint, it is simply incredible. From the huge rear projection screen which generates backgrounds to the Audio Animatronic sets that pop in and out of the scenes, the special effects are simply unbelievable.
In this scene, re-creating the Great Depression era, Sam the shopkeeper is pondering his fate with his buddies on the porch of his gas station store. He simply can't imagine how the Sunday drivers would be paying
"18 cents a gallon!!"
As an aside, I found this photo on
Rainywonderings1.blogspot.com
that appears to be a direct inspiration of this scene from the show. It's an old photo by Dorothea Lange that I am sure the Imagineers found when creating this show.
---
Visit
The Magic in Pixels.com
.
View 1,000's of Disney Theme Park Photos, read articles, participate in the TMIP Disney Photo Forum, and purchase Disney Prints for your home or office.