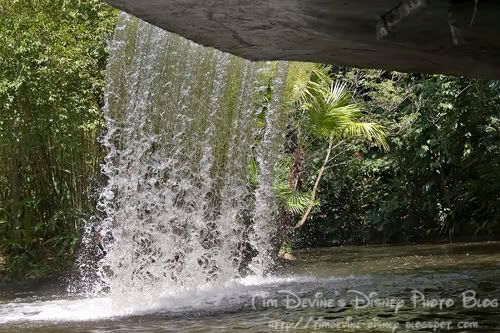 Ok, so it's time for my 1st ever Tim Devine's Disney Photo Blog contest! This one is so easy, it's almost ridiculous.
Here are the rules:
1. Send your guess of what this picture is (and there is
ONE SPECIFIC
answer using a famous Disney phrase). Tell me the phrase and what attraction this if from by sending me an
EMAIL
You MUST use the specific phrase. HINT: This is located somewhere in WDW, Florida and think about WHERE you are when you see this.
2. Leave a little comment (say hi, tell me how much you like or hate the site, tell me your favorite attraction,etc.) in the new CBOX on the right side of the screen. Please do not put your answers in the CBOX.
3. This contest will end Thursday, 4/27/2006 at 11:00pm Eastern Standard Time.
4. I will pick one winner at random from all correct entries who will get to pick (3) photos from the blog archives and I will send that person a 4x6 postcard print of the (3) photos they picked. Exception -- You can't have a photo of my son :)
5. Good Luck!
---
Visit
The Magic in Pixels.com
.
View 1,000's of Disney Theme Park Photos, read articles, participate in the TMIP Disney Photo Forum, and purchase Disney Prints for your home or office.