...me to design some print material featuring the photos from this blog? Does anyone have any interest in calendars, books, posters, etc.? I am considering getting some of these things made and making them available for sale -- is anyone interested?
I have created a really quick rough mockup of what would be a 13x19 inch poster of the photos in my blog...click the image below to be taken to a much high resolution version so you can study the detail. Note that I made this very quickly and there will be images that are not in the final version, such as background images and logos , etc. that are in this preview.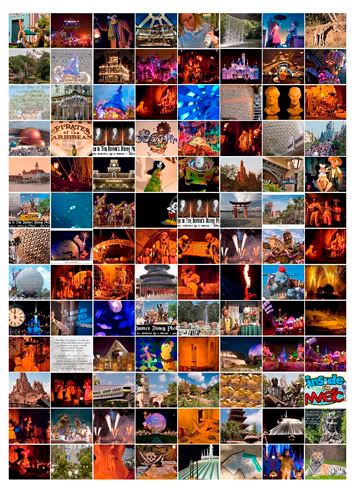 I am also working on making animated DVD photoshows with music from the attractions that feature the photography in this blog. The videos are full-screen, animated (pans/zooms/transitions) and DVD quality. If I can find some way to post a sample video I will. Is anyone interested in this?
Please let me know, either by commenting on this page or, if you prefer,
SENDING ME A DIRECT EMAIL
. I am eager to see what the response to this may be. Thanks for all of your continuing support.
Tim
---
Visit
The Magic in Pixels.com
.
View 1,000's of Disney Theme Park Photos, read articles, participate in the TMIP Disney Photo Forum, and purchase Disney Prints for your home or office.