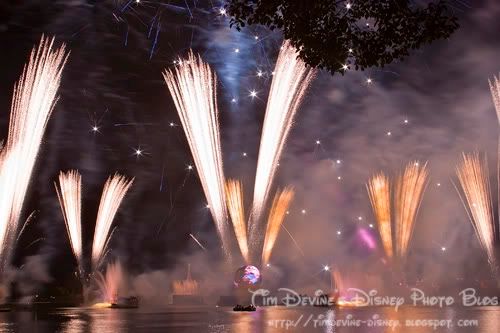 IllumiNations is the nightly firework/laser/musical spectacular at Epcot. I absolutely LOVE this show, although my beautiful wife doesn't particularly care for it at all. The show occurs nightly over the World Showcase lagoon and you simply MUST see it on any Disney trip. If you can get a spot right on the railing, all the better.
Clocking in at just under 13 minutes, the show features 1105 rockets and shells, 19 torches all around the World Showcase Lagoon, an infernor barge that explodes into a giant ball of fire, lasers mounted on the roofs of the various pavilions, and the world's first LED covered globe which cruises out into the center of the Lagoon while depicting various scenes of culture and humanity.
The music is moving and inspiring, and I get chills every time I hear "We Go On" while in the parks. It's one thing to listen to the MP3, but hearing it live is just awesome. (Oh, by the way, did I mention that I really like this show?)
---
Visit
The Magic in Pixels.com
.
View 1,000's of Disney Theme Park Photos, read articles, participate in the TMIP Disney Photo Forum, and purchase Disney Prints for your home or office.