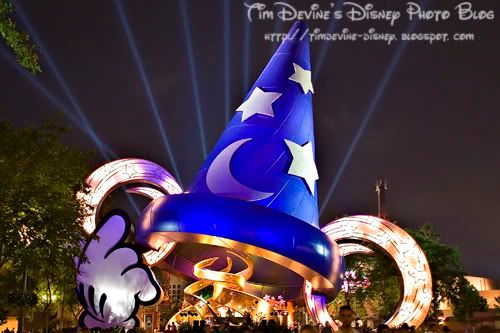 Topping out at approx. 122 feet tall, the Sorcerer Mickey hat is a tribute to Fantasia, Walt's signature movie, and at the same time a perfect compliment to Spaceship Earth, Cinderella's Castle, and the Tree of Life as the centerpiece of the parks. The hat was added to the Studios for the 100 Years of Magic Celebration in 2002-2003. Prior to the hat being added, the Studios did not have a signature "weenie"; Walt used the term weenie to describe something that draws people to a specific area, such as the Castle, the Riverboat whistle (Frontierland), the smell from the bakery on Main Street, etc.
---
Visit
The Magic in Pixels.com
.
View 1,000's of Disney Theme Park Photos, read articles, participate in the TMIP Disney Photo Forum, and purchase Disney Prints for your home or office.