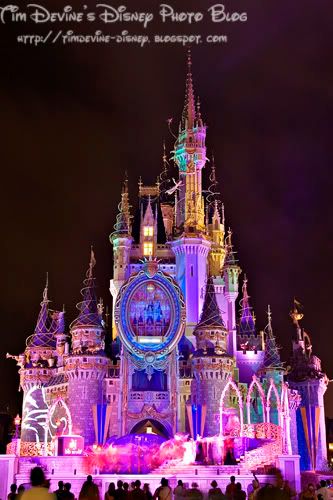 Are you kidding me? It took me almost a YEAR to post a night time photo of Cinderella's Castle in the Magic Kingdom? Simply put folks, if you "get it" when it comes to Disney World, this is as good as it gets. Simply beautiful, simply stunning. If you don't "get it", this is as bad as it gets...getting excited about a fake castle in the middle of Florida.
I happen to think I "get it" and absolutely love the time I get to spend photographing this beautiful structure, all decked out in every changing stage lights. I have been hooked ever since my 1st trip when I was 8 years old, and being able to see things like this are the reason why. I KNOW it's fiberglass and steel; I KNOW it's only a facade over a show building; I KNOW it's only about 1/2 as tall as it appears due to forced perspective (a technique in which the Imagineers built the 1st floor 100% to scale and then gradually reduced the scale of the upper floors, making it look much taller than it is); but I don't care. To me, this is fun and wonderful and that's all that matters.
---
Visit
The Magic in Pixels.com
.
View 1,000's of Disney Theme Park Photos, read articles, participate in the TMIP Disney Photo Forum, and purchase Disney Prints for your home or office.