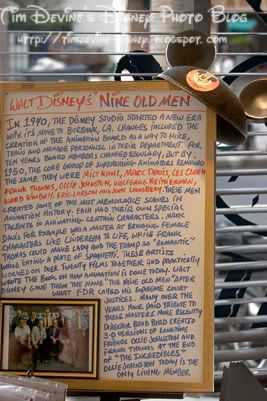 These informative passage was written on a dry erase board in a window on Sunset Blvd. at the Disney MGM Studios during the holiday season last year. As a Disney history buff, I thought it was a great piece of info, and a nice tribute to the pioneers in the company.
Text reads as follows:
In 1940, the Disney Studio started a new era with it's move to Burbank, CA. Changes included the creation of the animation board as a way to hire, train, and manage personnel in their department. For ten years, board members changed regularly but by 1950 the core group of supervising animators remaned the same. They were:
Milt Kahn, Marc Davis, Les Clark, Frank Thomas, Ollie Johnston, Wolfgang Reitherman, Ward Kimball, Eric Larson, and John Lounsbery
. These men created some of the most memorable scenes in animation history. Each had their own special talents in animating certain characters. Marc Davis for example was a master at bringing female characters like Cinderella to life while Frank Thomas could make Lady and the Tramp so "romantic" while eating a plate of spaghetti. These artists worked on over twenty films together, and practically wrote the book on how animation is done today. Walt Disney gave them the name "The Nine Old Men" after what FDR called his Supreme Court justices. Many over the years have paid tribute to these masters. Most recently director Brad Bird created 3D versions of longtime friends Ollie Johnston and Frank Thomas at the end of the "The Incredibles". Ollie Johnston today is the only living member.
---
Visit
The Magic in Pixels.com
.
View 1,000's of Disney Theme Park Photos, read articles, participate in the TMIP Disney Photo Forum, and purchase Disney Prints for your home or office.