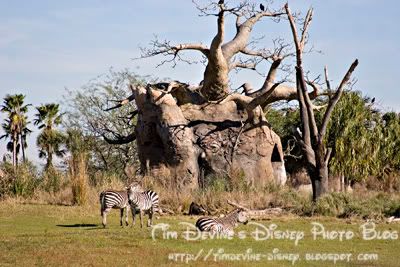 The Kilimanjaro Safaris in the Africa section of Animal Kingdom is by far the highlight of the park. You enter an open-sided safari vehicle and embark on an approx. 15-20 minute tour of the African plain, with a slight back-story. This shot, taken from a moving vehicle, depicts several zebra in front of the Baobab tree (upside down tree) which has several black birds, not sure what they are, in the branches. I love this ride.
---
Visit
The Magic in Pixels.com
.
View 1,000's of Disney Theme Park Photos, read articles, participate in the TMIP Disney Photo Forum, and purchase Disney Prints for your home or office.