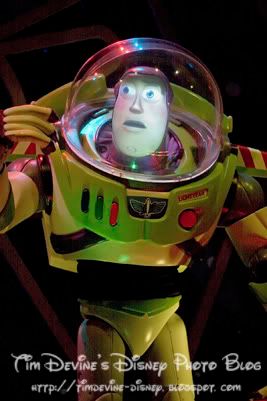 This one is for BuzzLvr31 at the DIS Boards. Buzz Lightyear standing there to greet the guests as they board for the ride. Quite a sophisticated audio animatronic with a projection for a face to keep with the Toy Story look.
Buzz Lightyear Space Ranger Spin (or Astro Blasters) is a unique ride. You are in an omnimover, similar to that of the Haunted Mansion, with a catch. You control the way the vehicle faces via a joystick, and shoot moving targets with a laser blaster mounted in front of you. The more you hit, the better your score. Each target has an assigned value, farther away = bigger score.
---
Visit
The Magic in Pixels.com
.
View 1,000's of Disney Theme Park Photos, read articles, participate in the TMIP Disney Photo Forum, and purchase Disney Prints for your home or office.