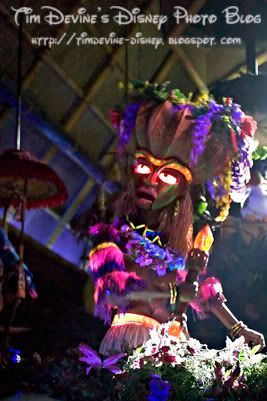 Who dares defame the Tiki Gods? Uh-Oa, the Tiki Goddess of disaster, has a few choice words for the infamous Iago in the Enchanted Tiki Room - Under New Management at the Magic Kingdom. Iago was talking badly about the Tiki gods ("Tiki-tacky, Polynesian, pinapple-picking, wood for brains morons") and Uh-Oa pretty much wrecks Iago's day. I really love both versions of the Tiki Room, but for different reasons (nostalgia in DL, novelty in MK).
---
Visit
The Magic in Pixels.com
.
View 1,000's of Disney Theme Park Photos, read articles, participate in the TMIP Disney Photo Forum, and purchase Disney Prints for your home or office.