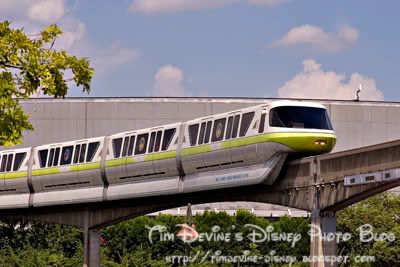 The Epcot monorail, seen with Test Track in the background. The monorails are designed primarily for transportation to and from the Magic Kingdom, MK-area resorts, and Epcot. Unlike Disneyland, the monorails are not classified as attractions themselves, however it is fun to ride on the monorails to kill time, even if all you are doing is making a complete loop. TRIVIA: There are twelve different monorails at the WDW resort, each with a different color stripe.
---
Visit
The Magic in Pixels.com
.
View 1,000's of Disney Theme Park Photos, read articles, participate in the TMIP Disney Photo Forum, and purchase Disney Prints for your home or office.