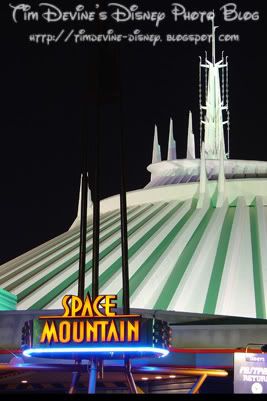 Space Mountain is the ultimate Magic Kingdom thrill ride. Riders board a 'sled' that hurdles them through space at warp speed...well, it's a twisty bouncy roller coaster in the dark with some special effects mixed in. The queue is themed for a futuristic launch effect and the 'postshow' is also quite good with scenes depicting life on other plants and robots.
---
Visit
The Magic in Pixels.com
.
View 1,000's of Disney Theme Park Photos, read articles, participate in the TMIP Disney Photo Forum, and purchase Disney Prints for your home or office.