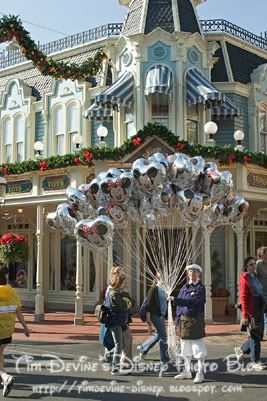 One of the vignettes that you find in the Magic Kingdom, the balloon seller. I love Main Street USA, even if it is just a way to shake more money out of your pockets as you come and go. Walt Disney designed this turn of the century small town 'Main Street' after his home town of Marcelline, MO, however Main Street USA has that feeling of AnyTown USA at the same time. It is quaint, with lots of shops and restaraunt that ooze character due to the atmosphere and themeing. The selling point, to me, is that it doesn't pretend to be authentic...it just is what it is (and it is good).
---
Visit
The Magic in Pixels.com
.
View 1,000's of Disney Theme Park Photos, read articles, participate in the TMIP Disney Photo Forum, and purchase Disney Prints for your home or office.