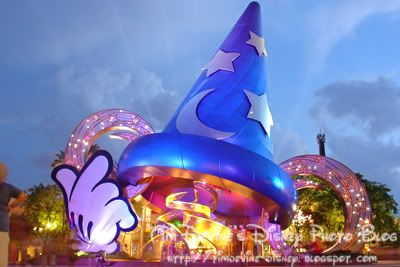 Enter the Disney MGM Studios and walk down Hollywood Blvd. straight into this giant Sorcerer Mickey hat. Constructed as the centerpiece to the Studios, this giant hat lights up with all kinds of strobe and glitter effects at night and is really cool to look at. Directly behind "The Hat" is the Great Movie Ride, a Studios classic.
---
Visit
The Magic in Pixels.com
.
View 1,000's of Disney Theme Park Photos, read articles, participate in the TMIP Disney Photo Forum, and purchase Disney Prints for your home or office.