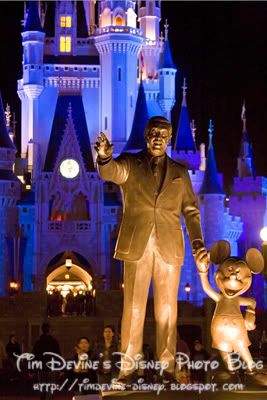 This is the wonderful 'Partners' statue that is the centerpiece of the 'hub' in front of Cinderella's Castle in the Magic Kingdom, Florida. It was placed there on 6/19/1995 as a tribute to the legendary founder of the Walt Disney Company and his most famous creation. This beautiful statue is also featured in Disneyland and Tokyo Disney. In this photo, the bronze statue is captured with Cinderella's castle in the background in all of it's lightscaped splendor. The Magic Kingdom is truly a sight to be seen at night.
---
Visit
The Magic in Pixels.com
.
View 1,000's of Disney Theme Park Photos, read articles, participate in the TMIP Disney Photo Forum, and purchase Disney Prints for your home or office.