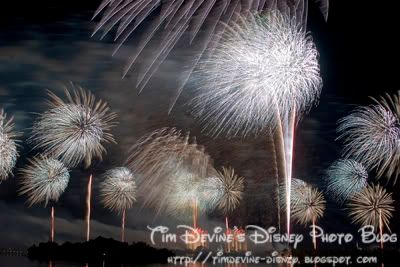 This was the New Year's Fireworks spectacular at the Magic Kingdom in Florida. Taken at about 12:01am on 1/1/2005, this was the most incredible fireworks display I have EVER seen. The display was so wide, this was the widest lens I had at the time, and it was STILL not enough. This was taken from the beach of the Polynesian Resort, and you can see Cinderlla's Castle in the bottom middle, across the water. I love watching the fireworks from this location.
---
Visit
The Magic in Pixels.com
.
View 1,000's of Disney Theme Park Photos, read articles, participate in the TMIP Disney Photo Forum, and purchase Disney Prints for your home or office.