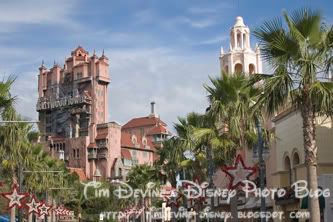 Greetings from Sunset Boulevard at the Disney Studios in Florida. I love this photo and to me it seems like a postcard. You have some of the shops on the right hand side and the ominious Hollywood Tower Hotel to the left looming in the background. You can almost hear the screams from the Tower blending in with the music from the Boulevard.
---
Visit
The Magic in Pixels.com
.
View 1,000's of Disney Theme Park Photos, read articles, participate in the TMIP Disney Photo Forum, and purchase Disney Prints for your home or office.